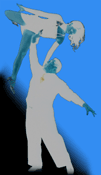 Cha-cha-cha is the name of a Latin American dance of Cuban origin.
There are three flavors of cha-cha-cha dance, differing by the place of the cha-cha-cha chasse with respect to the musical bar. The original Cuban cha-cha-cha and the Ballroom cha-cha-cha count "two-three-chachacha".
Country/western cha-cha-cha and Latin street cha-cha-cha in some places other than Cuba count "one-two-chachacha" or "chachacha-three-four.
Come and learn salsa, cha-cha-cha, merengue, bachata, bachata tango and other latin street dances. We hold eveing classes in Fleet, Farnborough, Woking, Guildford, Farnham, Churt, Dorking. Check the lessons section for more info.